Planning has been approved for our proposal to build 39 new council homes together with Lewisham Council, for residents over 55 years of age.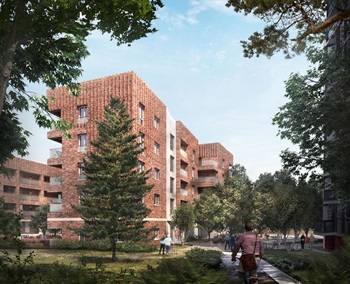 These homes will provide much needed high-quality, social rent homes which will be charged at London affordable rent.
The permanent accommodation building will be three to five storeys in height, comprising 39 one-bed self-contained flats, landscaping, and a communal courtyard that looks out onto Bampton Green. This is a public space which has been designated as an Asset of Community Value.
To help inform the design proposal, consultations have been held since 2016 with subsequent revisions made in response to residents' queries and concerns. The current site is occupied by an existing ball court which will be relocated elsewhere on the estate. The new u-shaped building will complement the existing homes and space in and around the Bampton estate. Current park provisions will also be improved and increased in number.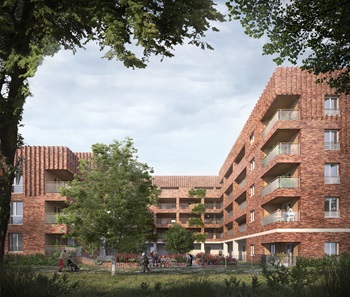 Construction is estimated to begin on site in summer 2020 and completed in spring 2022. You can see the planning application on Lewisham Council's planning website.
The consultation event held on 23 May 2019 outlined the revised scheme proposal.  The updated scheme is reduced to 39 homes for over 55s and includes other key changes such as the removal of the Windrush Lane through road and a reduced impact on trees.
An alternative ball court will be in place prior to building work commencing at Bampton and we will consult residents on how this could look in January 2020. Please register interest for getting involved in this consultation to community relations (getinvolved@lewishamhomes.org.uk).
The consultation materials can be downloaded below.
General Information
Project stage
Planning permission granted
Number of new homes
39
Ward
Perry Vale
Start on site
Summer 2020
Work estimated to complete
Spring 2022
Contractor
To be confirmed
Architect
Levitt Bernstein
Number of homes for social rent
39
Number of homes for sale
0
Useful information
[prettyfilelist type="pdf,xls,doc,zip,ppt,img,mp3″ filestoshow="8526,8525,6895,6313,6013,5611," filesPerPage="3″]
Save
Save